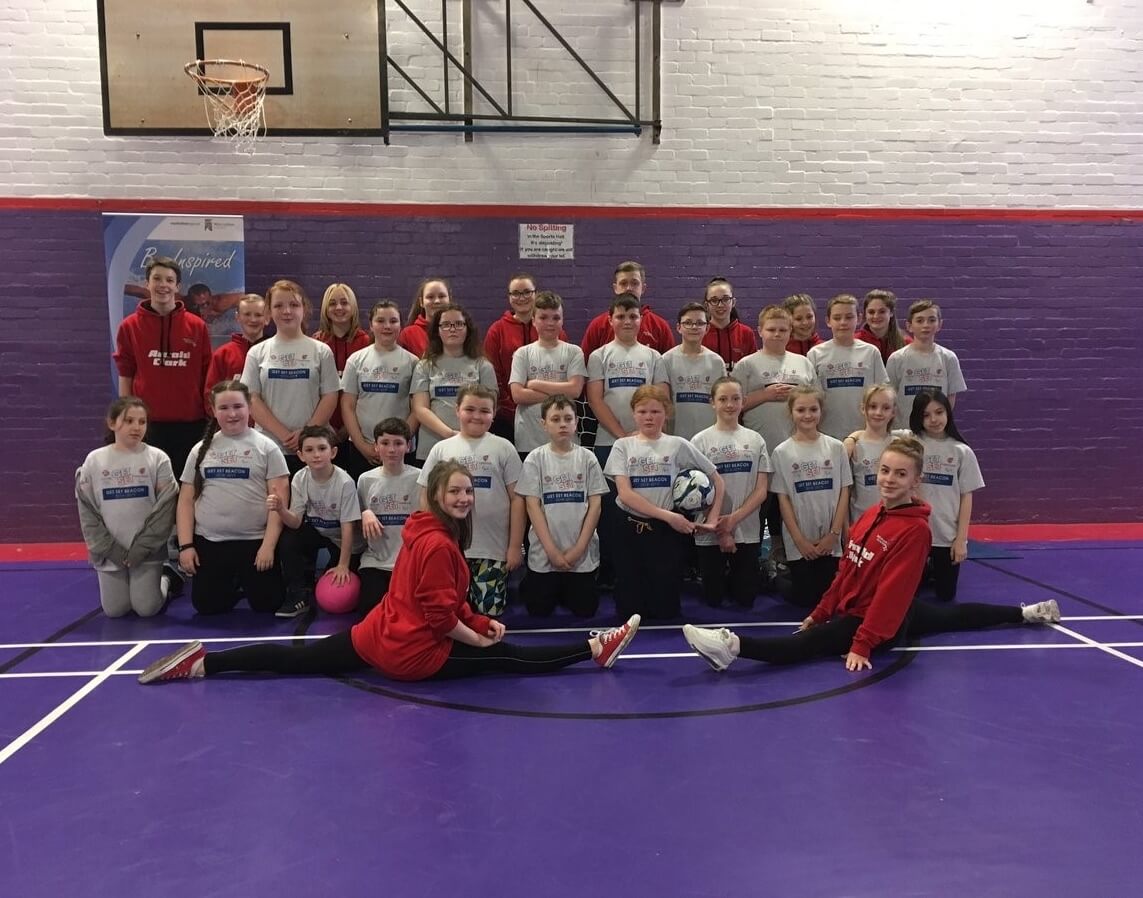 Students from Get Set Beacon, Whitburn Academy, take the lead at their Get Set Get Active Festival 2019. Sports Captains led judo, dodgeball, basketball, netball, football and dance sessions with Polkemmet Primary School.
The Get Set Beacons campaign was designed to empower schools and youth organisations to build local links to encourage active lifestyles for young people. The campaign offered 38 schools and youth organisations from across the UK access to funding, training and materials to help get their community active. These schools and organisations were our Get Set Beacons across the 2018–2019 school year, championing physical activity in their local community and inspiring other organisations to get involved and get everyone in the community moving.
Each Get Set Beacon applied with a project plan, and then attended a training event in Birmingham on 27 September 2018, before returning to their school or group to start work on their projects. These projects have come to life in a wide variety of ways, as Beacons worked to build the best projects to engage young people in their local areas. With Beacons selected from all over the country, from large sports partnerships and city academies to small rural schools, each project has faced unique challenges and worked with determination to find their own unique solutions!
"This year… we've seen more participation. Like the running club, we've got kids coming who wouldn't have come before. We've had kids turning up for the football fest that probably don't play football regularly, but as it's a big, open event, they'll come and join in. We've tried new sports, parkour, for example, that's opened doors up for lots of children. Something new and unique, it doesn't go on elsewhere. It's providing an opportunity."
Beacon Lead, Treorchy Primary School
Beacons projects have included a vast range of activities: new sport clubs and festivals, active gardening, training for young sports leaders, the creation of new running trails for the local community, family running clubs, a school cycling hub, transition sports clubs for year six and seven girls, cross-curricular PE-science lessons (boxing to demonstrate the science behind aerobic and anaerobic respiration!), a parkour club, a community sports day to bring together rural schools, the championing of inclusive sports, workshops on nutrition, exercise and stress management and much more!
Throughout the year, Get Set Beacons have together successfully reached an outstanding number of lives around the country – engaging over 27,000 people with their projects! What's more, Get Set Beacon projects have allowed large numbers of young people to take a lead in activities, providing personal development opportunities for over 2,500 young people to build valuable leadership and life skills.
"Our confidence has improved. Because I know maybe if we hadn't done any of this, standing up in front of a group of people we don't really know, we wouldn't be able to lead it confidently, but now we can all do that."
Student, Davenant Foundation School
It has also been great to see so many Beacons working to widen accessibility in their schools and communities. One Beacon, St Christopher's School, Wrexham, for instance, encouraged sports leaders to build skills in British Sign Language before running sports sessions for local primary schools – ensuring they could communicate with a group of attending pupils with hearing impairments. Other Beacons meanwhile opened their facilities to pupils with special education needs from the local community; improved provision for accessible sports and transport at their school; and provided new SEND training for teachers and sports leaders. Indeed, all Get Set Beacons reported taking measures to ensure they considered accessibility in their projects and ensured all activities were as inclusive as possible.
We are blown away by all the hard work our Get Set Beacons have put into their projects over 2018– 2019, and incredibly proud to see the reports on their successes! We would therefore like to say a huge thank you to all our Get Set Beacons of 2018–2019, and particularly to each Beacon Lead, who have worked especially hard to spearhead their projects at their schools and groups.
The Get Set Beacons campaign always hoped to inspire schools and groups to build long-term and sustainable projects. With this in mind, we are very excited to announce that Get Set will be continuing to support our Get Set Beacons in the 2019–2020 school year, helping to ensure their projects build on their initial success and will continue to help young people in their local communities get active for years to come.
Congratulations to all our Get Set Beacons and we look forward to seeing how your projects grow in this Olympic and Paralympic year!
The schools and organisations continuing to be Get Set Beacons 2019–2020 include:
London
Capital City Academy
North Harringay Primary School
Davenant Foundation School
Yorkshire and Humberside
Chapel Haddlesey C.E. Primary School
North West
Clare Mount Specialist Sports College
South Sefton School Sport Partnership
St Maria Goretti Catholic Primary
Tameside School Sports Partnership
Hodge Clough Primary School
North East
East
Broom Barns Primary School
Hunts School Sports Partnership
Prince William School
Southend Primary Schools Sports Association
East Midlands
Maplewell Hall School
Phillimore Primary School
Scotholme Primary School
Sparken Hill Academy
West Midlands
South West
St John's Catholic Primary
St John's CE Primary School Ripley
St Luke's Science and Sports College
South East
North Hinksey Primary
Park House School
The Lenham School
Upton Junior School
Northern Ireland
Oakgrove College
St Dominic's High School
Scotland
Campbeltown Grammar School
Rossie Young People Trust
Whitburn Academy
Wales
St Christopher's School
Treorchy Primary School
Isle of Man
Queen Elizabeth II High School
You can read more about some of our Get Set Beacons projects in their own words and get inspired by checking out their showcases or updates on social media.
Interested in running your own community project? Explore Get Set to find our top tips for running a creative brainstorm, ideas and advice for gaining funding or value in kind support for projects and our volunteering and enterprise resources to get students involved and create opportunities for personal development.