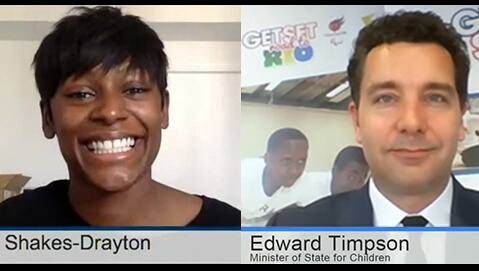 Transcript of video
Edward Timpson MP, Minister of State for Children and Families, and Team GB athlete Perri Shakes-Drayton were our special guests in the fourth Get Set Google Hangout.
Year 7 pupils from Davenant Foundation School in Essex and Lealands High School in Luton, took the chance to ask the Minister and 400 metre sprinter some challenging questions on the topic of building character and resilience through sport.
Catch up on all the action now and read some of Perri's answers!
You have a degree in Sports Science and must have worked hard in school to achieve good exam grades; what was your ambition when you were our age and what kind of student were you? Lealands High School
'It's funny because when I was young I didn't really know what I wanted to be. There was one thing that my dad used to embed in me 'why don't you become a computer engineer?' But I didn't know what being a chemical engineer actually involved! As I got older, and through the subjects that I chose during school including P.E and Food technology, I realised that I was more interested in being physically active than following a career in chemical engineering.
I had always done P.E at school and although I was not the strongest or the most intelligent in my class, I always payed attention and asked for extra support from the teacher when I needed it. One piece of advice that I would give to all young people is to never be afraid to ask for support, if you do not understand something always seek help from a teacher, or even from a friend.
In terms of being an athlete, when I was at school I always took part in sports, such as cross country. My teachers began to notice that I had some kind of talent and encouraged me to join a running club. I joined a club and I haven't looked back since! I met my coach there and since then I have achieved my goals through hard work and a lot of dedication.' Perri Shakes-Drayton
Courage and Determination are two of the Olympic and Paralympic Values – can you think of a time in your career when you have had to show courage or determination (resilience) in overcoming a situation? Davenant Foundation School
'It's quite funny, I have noticed, during this Hangout, that the Minister and I share similar characteristics! Even though we are from very different professions they are also very similar. In terms of overcoming a situation, it was not easy becoming an athlete I had to dedicate a lot of time to athletics and my social life had to be put on hold. My goal was to do well as an athlete and to be well educated from school so I had to dedicate a lot of my time to this. I missed hanging out with my friends, but my athletics career was going well, I was doing well in races, my time was getting faster so I wasn't really worried or focused on anything else. But the one thing about being a sports person is injury.
I injured my knee two years ago at the world championships in Moscow. That took a lot of determination - the fact that I was unable to run. It took me a long time to learn how to walk again, how to get up the stairs, so it was really about going back to basics. I had to have training six times a week during my recovery. I have fully recovered now and achieving a lot before my injury, that is what got me through every day. My family, my coach and my friends they were my backbone to keep me positive. I had the mentality that I was going to be back and finish what I had started.' Perri Shakes-Drayton
Check out more hangouts for more great interviews with Olympic and Paralympic athletes, Team GB and ParalympicsGB support staff and other exclusive guests!