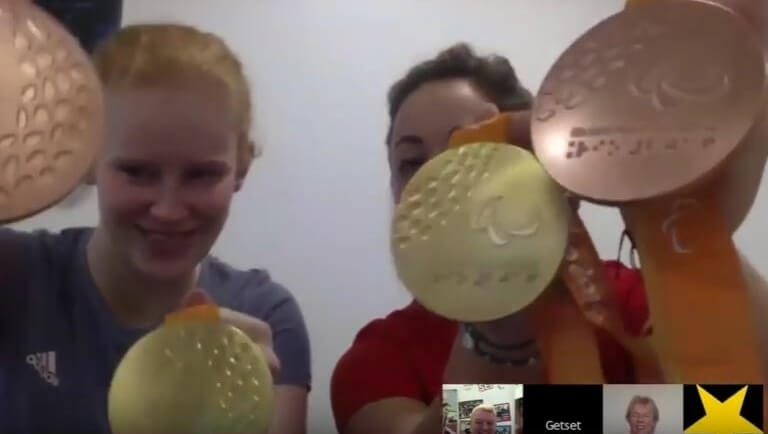 Transcript of video
We have a real treat in store with our tenth Google Hangout with not one, not two, but three special guests to answer schools' questions on the Paralympic Value of Equality!
Our first two guests are Paralympic cycling tandem Sophie Thornhill and Helen Scott. Sophie first joined Great Britain's cycling team soon after London 2012 and soon made a name for herself by winning two world titles and breaking two world records! Helen has also been an avid cyclist since childhood and was part of the Great Britain Cycling Team's under 23 sprint academy before moving across to para-cycling as a pilot at the end of 2010. Together at Rio 2016 Sophie and Helen reached the podium twice, winning gold in the tandem B one-kilometre time trial and a bronze in B 3000m individual pursuit – amazing!
Our third and final guest is founder of the Daily Mile, Elaine Wyllie. Whilst working as a primary head teacher in Stirling, Elaine started a fitness revolution in schools with her simple and award winning Daily Mile scheme. The idea, that pupils take just 15 minutes of each day to spend walking, jogging, or running, has spread from Stirling to transform schools around the country!
A big thank you to all our guests for taking part and to Harris Academy Merton, Kitty and Leslie from Newport Junior School, Aldershot and Nathan, Lewis, Beth, Abi and the rest of Year Five at Trumacar Primary school, Lancashire for sending in their excellent questions!
The Paralympic Value of Equality encourages us to challenge stereotypes and break down barriers to inclusion in and out of sport. An important Value for anybody to enact in their daily life! If you would like to find out more about the Paralympic and Olympic Values, why not explore our Olympic and Paralympic Values resources? Get started today!