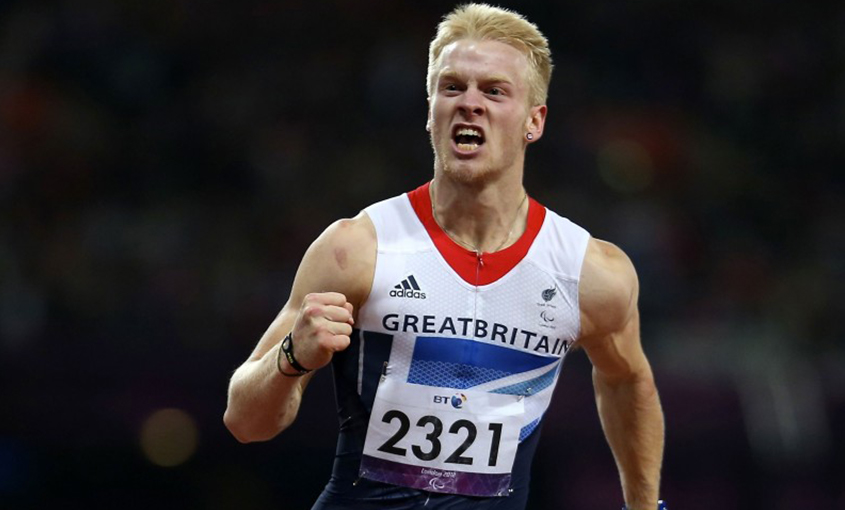 Transcript of video
Hometown: Cambridge
Sport: Athletics
Event: T44 100m
Games: London 2012, Rio 2016

Jonnie Peacock contracted meningitis at the age of five, and had his right leg amputated below the knee as a result. He got into sprinting almost by accident. Wanting to join a football team, the hospital which fitted his prosthetic leg recommended he attend a 'Potential Day' run by the British Paralympic Association at Mile End Stadium. There, he took part in a 60m sprint and he was immediately identified as a talented athlete.
After watching the Beijing 2008 Paralympic Games, Jonnie was inspired even further. In 2009, he competed in his first London disability Athletics challenge.
In June 2012, Jonnie broke the world record in the T44 100m at the US Paralympic Track and Field trials, and hopes were high that he would take home a medal at London 2012. In the end, Jonnie took the race - and the crowd - by storm, winning Gold in a Paralympic record time of 10.90 seconds.
At Rio Jonnie repeated his London 2012 success by retaining his T44 100 metre gold. Finishing almost a quarter of a second ahead of the silver medallist, Jonnie certainly rose to the challenge of the Paralympic stage!
Jonnie loves the speed and power of his sport, as well as the technical aspects of using a running blade. He also enjoys football and supports Liverpool FC.
You can find out more about Jonnie by watching our Get Set Hangout above featuring the man himself answering school's questions on athletics, Rio 2016 and more!