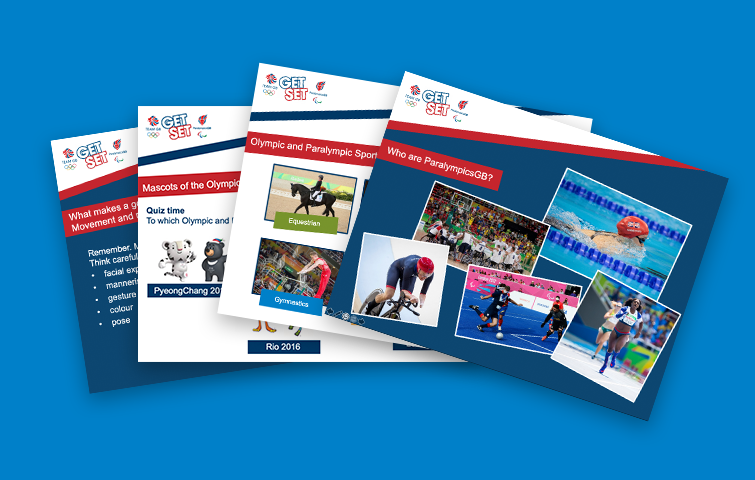 Get Set's new resource, the Mascot Challenge, helps students to create their own mascot design for ParalympicsGB, for the chance to see it displayed at ParalympicsGB House in the athletes' village at the Tokyo 2020 Paralympic Games!
"The resource has great links with PSHE. The ParalympicsGB element is very appropriate for the mutual respect and inclusion parts of PSHE and the British values work done in school."
Mr K Corral, Teacher
With differentiated resources for primary and secondary age groups, the resources are split into two parts, the first exploring Olympic and Paralympic mascots – their purpose, design and meaning – and the second focusing on the challenge of creating an original mascot for ParalympicsGB – exploring the ParalympicsGB brand, their athletes, what it represents and guiding students through the design process.
The resources are designed to be flexible, so either part can be used independently, whether in an assembly or in the classroom, or can be combined to allow students a broader understanding of mascots from around the world and the Paralympic Movement. Each resource includes optional active learning tasks, helping to minimise sedentary classroom behaviour and engage students in their learning.
"I really like the active parts of the PowerPoints. These would be an ideal way to link to the active nature of the Olympic and Paralympic Games, which works nicely in this assembly about the Games."
Mr L Sturrock, Teacher
SEND YOUR DESIGNS TO PARALYMPICSGB! DEADLINE EXTENDED!
Get Set would love to see any and all mascot designs you create for ParalympicsGB. If you send your students completed mascot designs to Get Set, your students will be in with a chance of their design being selected for a display at ParalympicsGB House in the athletes' village at the Tokyo 2020 Paralympic Games! What's more, due to popular demand, we have extended the deadline for receiving your mascot designs to 27 March 2020, so you have even more time to take part!
Mascot designs should be sent to Get Set using the design sheet provided in the resources.They can be designed using any medium, for example hand drawn, produced with computer-aided design or modelled in 3D with a photograph of the model included on the design sheet. (Please note: do not send through original 3D models, as we will not be able to transport these to Japan!)
We look forward to seeing your designs by 27 March 2020!