Congratulations to Phillimore Primary School and Wilmslow High School who will both be winning a school visit from a Paralympian this year after their success at the Get Set National Parlaympic Day final.
What was the competition about?
Launched last year as part of the celebrations for National Paralympic Day 2013, the British Paralympic Association (BPA) invited children and young people, in project teams, to survey their schools and communities and to review how accessible they are for athletes, spectators and volunteers. On the basis of the evidence gathered, they prepared presentations suggesting improvements that could be made to their schools and communities to make it easier, safer and more accessible for people with impairments.
There were two competition categories, one for primary schools and one for secondary schools. Primary schools were asked to survey their own school, whilst secondary schools were asked to look beyond this into their communities.
Who took part?
Out of nearly 40 entries, only three schools from each category could be picked to attend the BPA's headquarters and present their entry to a panel of judges, which included London 2012 Paralympic gold medallist Naomi Riches.
The finalists who presented to the panel were:
Primary School category:
Phillimore Primary School, Sheffield
Cheam Park Farm Junior School, London
Helme J & I School, West Yorkshire
Secondary School category:
Hartford High School, Cheshire
South Bromsgrove High School, Birmingham
Wilmslow High School, Cheshire
The presentations
The presentations from all finalists involved a great deal of creativity, with students using videos, posters and songs to illustrate their discoveries and recommendations whilst making excellent links to the Paralympic Values of inspiration, determination, courage and equality.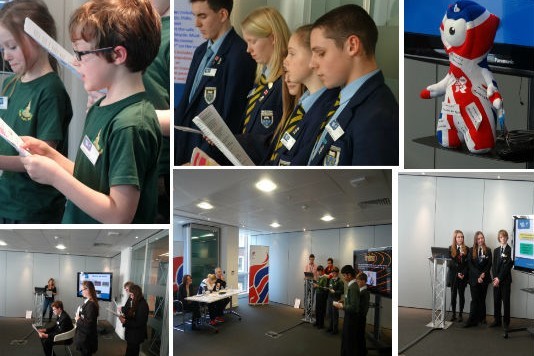 However, there could only be one winner from each category, and it was Phillimore Primary School and Wilmslow High School who took the hours after a very difficult decision made by the judges.
Paralympic gold medallist Naomi Riches said:
I was really proud of all the kids that presented today - it took a lot of guts. I'm also extremely excited to see the inclusion of disabled people in mainstream school. When I was at school inclusion wasn't that great. To see everything coming together like this and to see students getting enthusiastic about these issues is really encouraging.
The research they did and the awareness that they had really struck me. I hope that the project will stay with them; they're living the values of the Paralympic movement and it's a great expression of team work. They also probably understand a lot more about disability and what can be improved and they came across as very enlightened young people.
It was so hard to choose a winner, it really was, but all of the students showed a great deal of enthusiasm and it was all very much from the heart. They showed that they were empowered to improve things in their community and a real desire go out there and to get things done to improve the environment for disabled people.
PLUS
Don't forget to Get Set for Sochi 2014 ahead of the start of the Paralympic Winter Games on March 7 and include some of our exciting Sochi 2014 resources in the classroom or assembly available here.
To apply to become a Get Set school, find out more and register.
The Get Set National Paralympic Day Competition was funded by the Big Lottery Fund's Spirit of 2012 Trust.