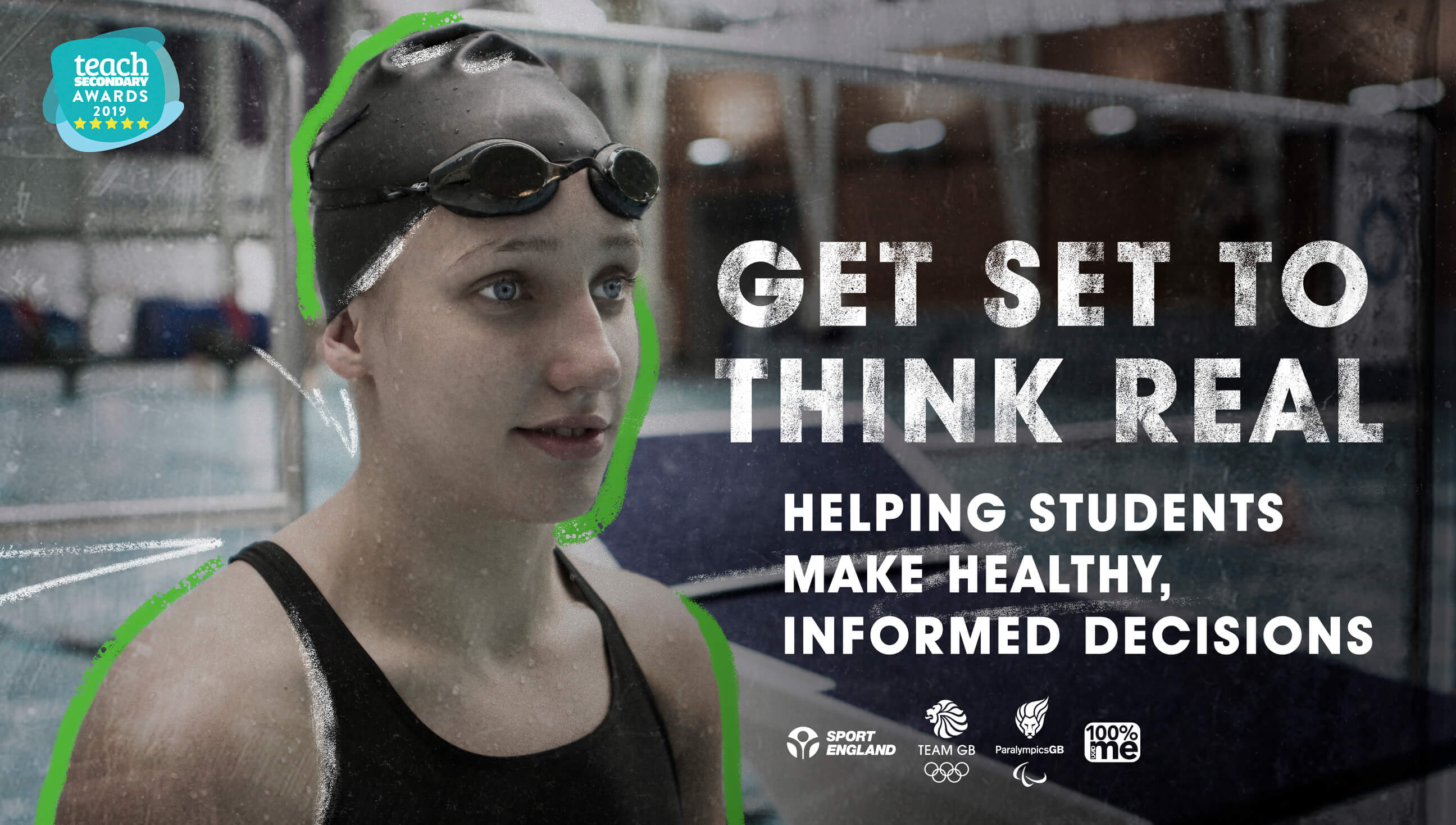 Think Real aims to inspire young people aged 11–16 to have healthy attitudes about nutrition, recovery and physical activity. Recently announced as winner of the Teach Secondary Awards (curriculum impact) and bronze winner in the EVCOM Film Awards (learning and development), the programme includes engaging films, editable resources and expert information to support students in making informed decisions and developing long-term healthy habits – all available to download free from the Get Set resources.
Think Real provides a refreshing, youth-centred approach to health education. The curriculum-linked resources help young people, whether they see themselves as 'sporty' or not, to explore nutrition, recovery, physical activity and gateway behaviours to drugs and doping, helping them to take ownership of their physical and mental health. The programme addresses the links between these various health challenges and approaches healthy habits as a whole – helping young people make the links to consider their own personal development and all-round health.
"Think Real addresses a real need for students to understand healthy decision making which has such a significant impact for children in terms of their academic performance but also risk-taking behaviours. As teachers we don't have enough knowledge about this topic so these resources would be invaluable to use"
Teach Secondary Category Judge, Huntington School, York
"It's extremely important to give young people the confidence and knowledge they need to make their own choices about their health and the life-long benefits of being active. Sport England is delighted to be investing funding to help them achieve this, by creating a great resource not only for teachers and schools but also for sports clubs, parents and any organisation that works with young people."
Mike Diaper, Executive Director at Sport England
Think Real offers adaptable, curriculum-linked resources for teachers, coaches and leaders working with young people aged 11–16. Including adaptable presentations, student activity sheets, expert information and engaging films, the resources are flexible and varied. With 'class' resources aimed at a general audience, for delivery in PSHE, and 'team' resources for GCSE PE students (or those engaged in extra-curricular sport) Think Real allows teachers and leaders to select activities to suit and support students at all stages of their school life, or levels of sport.
Teachers currently using the Think Real resources have responded positively about the programme's impact on students. For example, J. Doherty, PE teacher at Davenant Foundation School in Essex, agreed that each of the Think Real films "captures real-life situations that young people find themselves in today" and helps grab the interest of all students and promote discussion, engagement and reflection on eating well, moving more and building healthy habits.
Speaking about using the resources with children with special education needs, J. White from Clare Mount Specialist Sports College in the Wirral highlighted how the "mix of active and visual learning from the activities engages all pupils" and that the school's "most difficult students in terms of mental health challenges particularly liked the videos" alongside "very, very positive" feedback from higher ability students.
"It is great to be working with our partners on this programme for schools that will help young people have conversations about lifestyle choices and the impact these choices may have on their health and well-being. At UKAD, we believe the key messages involved in Think Real, especially around the health and moral risks of doping, and encouraging a natural, food-first approach to nutrition, can ensure children grow up to make intelligent, informed choices, and ultimately reduce the risk of doping in sport. We urge more schools to engage in this award-winning programme by utilising the free resources to prepare future generations to be healthy and active."
Paul Moss, Head of Education, UK Anti-Doping
"Educating and inspiring young people to help them develop and establish healthy, active lifestyles is central to Get Set and the Think Real programme, and an initiative which the British Paralympic Association is proud to be a part of. The resources that are available through the Think Real programme can help guide young people to make healthy, informed decisions – and best of all, establish healthy habits that last a lifetime."
Mike Sharrock, Chief Executive of the British Paralympic Association
"From its inception, Get Set has looked to work with young people to help educate them through the power of sport. Health and well-being is a fundamental part of a young person's life, now more so than ever before, and the thought provoking Think Real campaign will help to support them in making informed choices in everyday life. We know only too well that the stars of tomorrow come from a variety of backgrounds and face a multitude of complex decisions day-to-day. Think Real can really kick start strong, healthy habits, not just in the short term but for life and that is why it is with great pride we join with partners to deliver this campaign."
Jan Paterson, Chief Executive Officer, British Olympic Foundation
The Think Real materials are available to download for free from the Get Set resources section, so start a discussion, create space to inform and get ready to inspire young people to make healthy choices today.