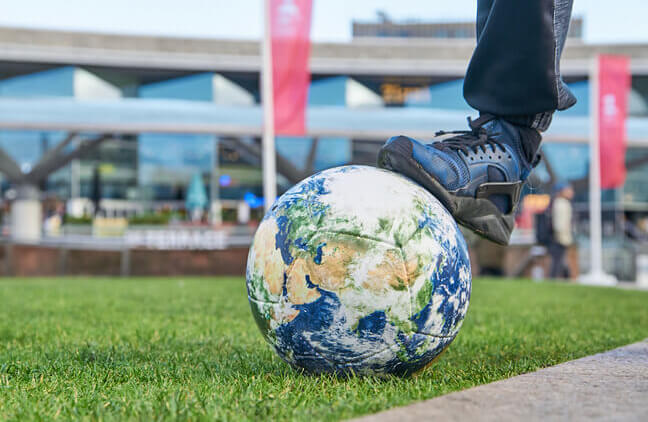 Photo credit: Rob Battersby
WHAT IS ONE WORLD?
One World is a special art commission by Mark Wallinger which marks the centenary of the First World War through football.
Commissioned by Liverpool Biennial and 14-18 NOW: WW1 Centenary Art Commissions, the One World football is inspired by the football matches and kick-abouts played during the Christmas Truce of the First World War. The series of small unofficial ceasefires across the Christmas period of 1914, known as the Christmas truce, have long been seen as a symbol of peace, friendship, respect and cooperation in the midst of a devastating war. Artist Mark Wallinger has also taken inspiration from Earthrise, an iconic photograph of the earth taken on 24 December 1968 from Apollo 8. This image showed the earth as it had never been seen before, fragile and small in the emptiness of space.
TAKE PART
One World is a celebration of how football brings people together. The footballs are being sent to community projects and extraordinary individuals across the UK, with the invitation to respond to the artist's ideas and create and share their own videos and images using the football.
We want the Get Set community to join the celebration! We have a number of One World footballs to give away to schools and groups who share a showcase on the Get Set website or tweet about how you are getting active or sharing the Olympic and Paralympic Values. We have a limited number of footballs available, so share your story today to avoid disappointment!
If you are selected, we would then love for you to get creative with your One World football, and update us of how it gets put to use! Share your images as a showcase or @GetSetCommunity using the #OneWorld.
Share your story now!