Show and Tell
Keep up to date with prizes, athletes and fantastic opportunities. Connect with other teams across the nation. Show us how you're keeping active by emailing us at getset@getset.co.uk or on social media by tagging #TTTYourWay and you may be featured on this page!
Posted on 23 June 2020
Get active with Anthony Ogogo
For International Olympic Day, Anthony Ogogo is challenging YOU to try his 20 minute workout!
10 exercises. 20 minutes. Boxing bronze medallist Anthony Ogogo is leading today's workout! For more ideas visit our Get Set website: https://www.getset.co.uk/travel-tokyo

Posted by Team GB on Wednesday, 24 June 2020
Posted on 22 June 2020
Celebrate International Olympic Day
June 23rd is International Olympic Day. Team GB will be posting loads of fun Travel to Tokyo activities from our fabulous Ambassadors. Follow @TeamGB on social media to keep up with all the action!
It's Olympic Day tomorrow! Join us all week for fun workouts and challenges from our athletes.

Find out more via @GetSetCommunity ⬇️ https://t.co/AbXBl6D0Du pic.twitter.com/AyiXPbM60V

— Team GB (@TeamGB) June 22, 2020
Posted on 18 June 2020
NEW ACTIVITIES: Home Sports Day
Why not have a sports day at home this summer? Our new Home Sports Day pack has everything you need to get active and have fun at home as a family.

Posted on 16 June 2020
Beat the athlete
Watch Paralympic sprinter and long jumper Polly Maton attempting Jacob's challenge of toilet roll bowling. See if you can beat Polly's score!
Thank you for sending me your fantastic ideas for #TravelToTokyo! Jacob- I think loo roll bowling could become a new sport! See if you can beat my score (not very hard if you take my original attempt...) Remember to stay active and log your activity! #TTTYourWay @GetSetCommunity pic.twitter.com/CRTC5gYAQy

— Polly Maton (@polly_maton) June 16, 2020
Posted on 15 June 2020
Red Hill Primary School are joining the journey
A big shout out to Red Hill Primary School for taking on the Travel to Tokyo challenge. Keep up the great work everyone!
I have signed our school up to the @GetSetCommunity challenge! Our challenge is to log 15 activities in 6 days. Can Redhill do it? Just click the link and find our school #redhillmovesmore #TraveltoTokyo #TTTyourway https://t.co/hpQ4VJuLQt

— redhillprimaryschool (@redhillprimary1) June 15, 2020
Posted on 12 June 2020
Beat the athlete
See Jacob's winning entry for our Beat the athlete challenge. Polly will be posting her attempt soon!
Thankyou !! here is another one , hope you can beat it 👍 pic.twitter.com/S3citXoMVc

— Natasha Coyne (@Bynatash) June 8, 2020
Posted on 10 June 2020
Check out Travel to Tokyo Ambassador Laviai's video diary!
Posted on 09 June 2020
COMING SOON: To a road near you...
Next week Get Set will be featured on billboards across the country! Keep your eyes open and if you see one, take a selfie and tag @GetSetCommunity to win a prize!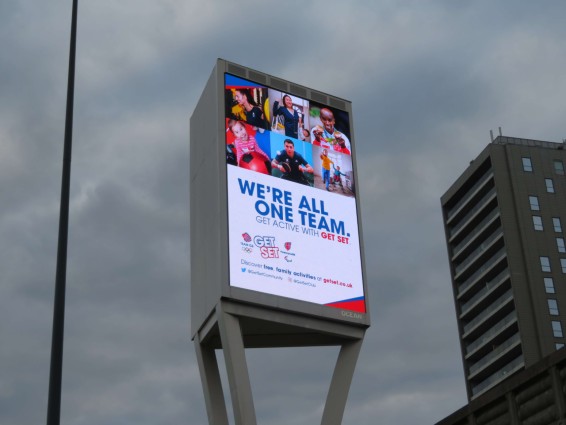 Posted on 05 June 2020
NEW ACTIVITIES: Making Me Happy
Here's some new activities for you! Our brand new 'Making Me Happy' Active Challenges are here to support your mental and physical wellbeing. Covering topics such as being kind to others and connecting with older people, these challenges can be used as a home learning activity or part of a classroom lesson. Try one today!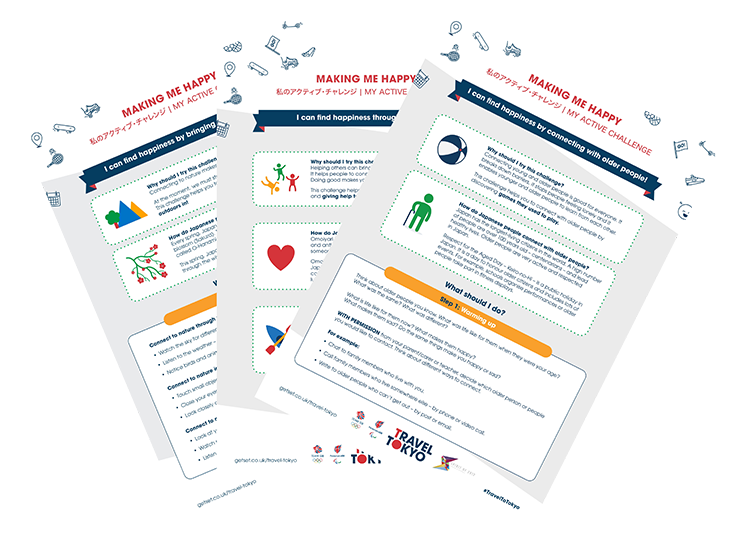 Posted on 05 June 2020
We're all one team!
The Games may be postponed but the Travel to Tokyo challenge is not! Keep getting active with Team GB and ParalympicsGB and continue logging your activity.